Hawai´i on Brink of Healthcare Crisis as Pandemic Booms
By Max Dible
August 12, 2021, 4:06 PM HST
* Updated August 14, 6:45 AM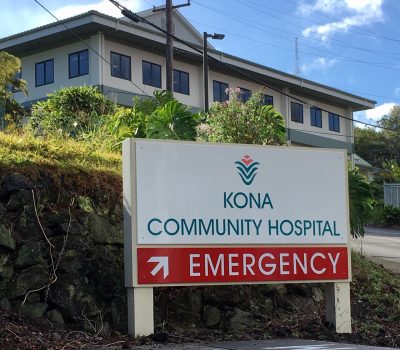 UPDATE: A PREVIOUS VERSION OF THIS ARTICLE INCORRECTLY STATED THAT 35 EMERGENCY EMPLOYEES HEADED TO KONA COMMUNITY HOSPITAL WOULD BE PAID FOR BY FEMA. IN FACT, A PRIVATE DONOR IS PAYING FOR THE FIRST WAVE OF HEALTHCARE WORKERS. FEMA WILL PAY FOR EMERGENCY STAFF MOVING FORWARD.
The State and County of Hawai´i are on the edge of a healthcare crisis.
Visitor restrictions and hospital lockdowns are back in effect across the Big Island as healthcare facilities near patient capacities, a situation directly linked to the massive increase in coronavirus cases across the county. More than 5,000 infections have been reported on the Big Island since the pandemic began, with more than 1,300 currently active.
Exacerbating the situation are shortages of medical personnel.
"Critical staffing shortages continue to challenge all units at (Kona Community Hospital)," KCH Marketing and Strategic Planning Director Judy Donovan wrote in a press release Thursday, Aug. 12.
It is a problem Donovan said KCH will soon address.
"We are looking forward to welcoming 35 clinical staff, including critical care nurses and respiratory therapists, on Monday, Aug. 16," she added.
The additions will be paid for by a donor who asked to keep their name and the amount donated private. Future emergency hires will be funded by the Federal Emergency Management Agency (FEMA).
But even if healthcare centers can staff enough personnel to keep up with case counts that have been on the rise statewide for weeks, facilities themselves can not be enhanced so quickly.
Hilo Medical Center (HMC) reported earlier this week that it is already nearing capacity, and just 24 patients are currently hospitalized for COVID-19 island-wide, not all of them at HMC. The number is almost certain to rise, as only 58% of the county is fully vaccinated and the Big Island's seven-day average is 94 new infections every 24 hours. To make matters worse, most of those cases are connected to the now-dominant Delta variant, which is both highly transmissible and results in more severe symptoms than did earlier strains.
HMC has opened a COVID unit, which can accommodate 16 patients, not including those requiring care in the hospital's intensive care unit (ICU). But the number of COVID patients is not the only problem.
More people have sought inpatient care for standard ailments, as more patients have become vaccinated and the pandemic has settled in as an element of everyday life. That has resulted in less aversion to seeking in-person medical treatment than was seen last year when the pandemic was still new, medical professionals say. This development has crowded hospitals further and stretched resources thinner, also putting at higher risk patients in need of critical care unrelated to COVID-19.
The situation would not be solved, but can be significantly alleviated, with higher vaccination rates. According to Department of Health statistics, 61.1% of all Hawai´i residents are fully vaccinated and 68.7% have received at least one dose.
Hilton Raethel, president and CEO of the Hawai´i Healthcare Association, told Hawaii News Now (HNN) that as of Thursday, there were 282 individuals hospitalized with COVID-19 statewide. Of that group, 91% are unvaccinated.
"This is really stressing out hospitals across the entire state. COVID patients take a lot of work," Raethel told HNN's "This Is Now" program. "Fortunately, not as many are in the ICUs (or) are on ventilators as they were last year, at least proportionately. But the sheer volume of cases and the fact that they are infectious creates a drain on our healthcare system."
KCH said Thursday that it is currently caring for nine COVID patients, none of whom are vaccinated. Four are residing in the ICU.
"Since we began measuring vaccine status of admitted patients, only one COVID positive patient was vaccinated," Donovan said. "We strongly encourage anyone who has been postponing receiving the COVID vaccine to do so now."
No visitors are being allowed into KCH, save for a few "compassionate exceptions" in the cases of laboring obstetrics patients and those facing end-of-life circumstances, Donovan continued.
As of Thursday, Kohala Hospital has reinstated a lockdown of its facilities, meaning visitors will not be allowed.
Governor David Ige on Tuesday, Aug. 10 announced an executive order that immediately reinstated several coronavirus-related restrictions throughout Hawai´i.
The order reset social gathering limits in all settings to 10 individuals indoors and 25 outdoors. For high-risk settings, such as restaurants, bars, gyms and other social establishments, maximum capacity was reduced to 50%. All patrons of such settings are mandated to maintain six feet of social distancing, are not allowed to mingle between tables, and must wear face coverings at all times, even when seated, if not actively eating or drinking.
Furthermore, professional events planned to accommodate more than 50 individuals, such as weddings, conventions, concerts, etc., must submit virus-mitigation protocol to the relevant county agencies for a sign-off in order to host those events legally.
"We are seeing widespread community transmission," Ige said. "We need to take action, and we need to take action now. We need to minimize person-to-person contact in order to reduce transmission."
The governor added he believes mandates will need to be in place for four to six weeks before Hawai´i might track any statistically significant benefit from them.