Aloha, and welcome to our Preparing for the Future Initiative webpage.
Kona Community Hospital (KCH) recently concluded a nine-month performance improvement initiative called Preparing for the Future.  Early in 2014, KCH partnered with Huron Healthcare in this initiative in order to align the hospital's top three long-term strategic goals with future planning. Those goals are:
Public Private Partnership
Process Improvement
Recruit and Retain Physicians
Increasing challenges in the healthcare environment are not unique.  Hospitals nationwide are struggling with the expense of healthcare reform, under-reimbursements from government programs (Medicare and Medicaid) and third-party payers, as well as new government regulations.  As a member of the West Hawaii Region of Hawaii Health Systems Corporation, Kona Community Hospital has the additional expense of labor and benefits costs that approach 80% of net revenue.  As a result, the present health care model is unsustainable.
During the year, focus teams comprised of Kona Community Hospital staff and Huron Healthcare consultants identified and implemented financial and operational performance enhancements and cost savings initiatives to improve financial performance and maintain or improve quality of care delivery.  Project teams worked side-by-side to identify and implement improvement initiatives such as incorporating telemedicine services and a remote patient monitoring solution. Focus areas included:
Revenue Cycle:  Billing and collections processes
Non-Labor:  Contracts and costs for supplies and purchasing
Labor:  Scheduling, labor and departmental processes
Clinical Operations:  Length of stay management
Physician Services:  Physician contracting, billing and productivity processes
Project News:  Project teams identified $11.5 million in potential savings, and as of November, 2014 implemented $9 million of that amount!
The success of the initial nine-month implementation phase can be credited to the dedicated efforts of many committed employees, managers and leadership.  Their contribution is invaluable.
Our Progress: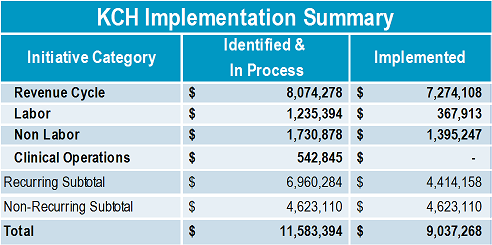 About Huron Healthcare:
Huron Healthcare is the premier provider of performance improvement and clinical transformation solutions for hospitals and health systems. By partnering with clients, Huron delivers solutions that improve quality, increase revenue, reduce expenses, and enhance physician, patient, and employee satisfaction across the healthcare enterprise. Clients include leading national and regional integrated healthcare systems, academic medical centers, community hospitals and physician practices. Modern Healthcare ranked Huron Healthcare third on its 2013 list of the largest healthcare management consulting firms. Follow the link below to learn more.