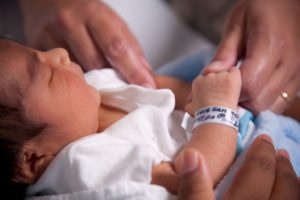 Our Women's Healthcare Unit, also known as the Maternity Unit, offers labor, delivery, and recovery services, plus a nursery with facilities for immediate care, stabilization, and transport for critically ill newborns.
WHAT IS AVAILABLE?
Childbirth and Breastfeeding Classes
Tours and Orientation to the labor and delivery room and unit
Individual attention to needs
Anesthesia consult if desired
Mother/Baby rooming in
Breastfeeding assistance
OBSTETRICIANS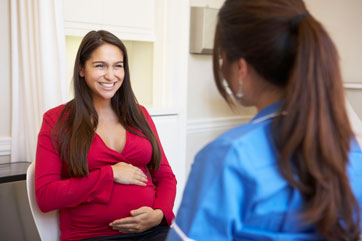 PEDIATRICIANS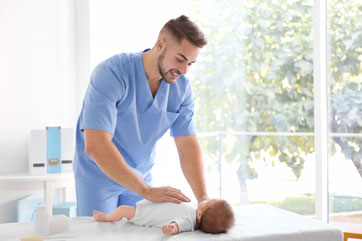 One of your first decisions for your newborn will be choosing who your Pediatrician will be. Please contact a Pediatrician prior to having your baby.
ROOMING IN
While your needs continue to be supported, family education is the cornerstone of the care provided in our mother and infant unit before, during and after the birth. Your baby will be rooming in with you during your time at the hospital, so that you may feel comfortable caring for your baby when you go home.
TAKE A TOUR
A tour is available to those who are expecting a child. The Maternity Unit at Kona Community Hospital promotes the philosophy of childbirth as a healthy and joyous event to be controlled as much as possible by the birthing couple.  Should they wish, this joyous event can be shared with family and friends.
PRE-ADMISSION
At about 36 weeks gestation, before going into labor and being admitted to the hospital, make arrangements to pre-register. You can pre-register on the internet, in person, or on the phone by calling the patient access department at (808) 322-9311.
ENROLL IN A PRENATAL CLASS
It is important to have as much education about yourself and your baby prior to your labor experience, so we strongly recommend enrolling in a prenatal class.  Kona Community Hospital offers a six-week class taught by certified childbirth educators.  Please call (808) 322-4416 to get more information, and to sign-up for a class that is convenient for you.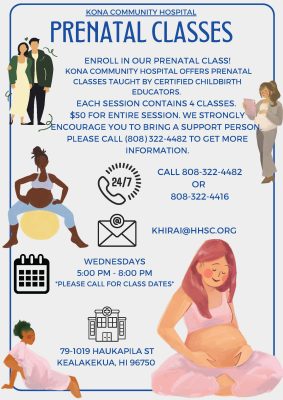 DESIGNATED BABY FRIENDLY HOSPITAL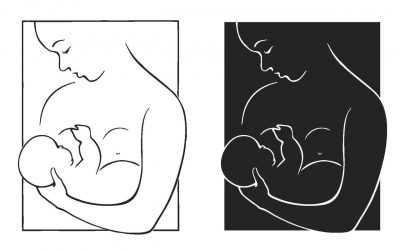 In 2016, Kona Community Hospital earned international recognition as a designated Baby-Friendly Hospital. Baby-friendly best practices provide new mothers with the proper education and tools to protect, promote and support successful breastfeeding and improve health outcomes for newborns. Kona Community Hospital does not encourage formula use or the use of pacifiers except for painful procedures. Learn more about the Baby-Friendly Hospital Initiative.
THINGS TO BRING TO THE HOSPITAL
CARSEAT (VERY IMPORTANT!) – You cannot go home with your baby without a car seat.  Please review how it works before the baby is born and have it installed in your car.
GOING HOME CLOTHES FOR YOU AND BABY – We will provide gowns for you and clothes for the baby while you are in the hospital, but you will need clothing and blankets for the baby at discharge.
TOILETRY ITEMS – Such as shampoo, toothbrush, toothpaste and any other personal items you may desire.
FOR ANY ADDITIONAL INFORMATION OR QUESTIONS, PLEASE CONTACT US AT:
| | |
| --- | --- |
| Maternity Unit | (808) 322-4416 |
| Maternity Unit Fax | (808) 322-8404 |
| | |