100 Deadliest Days of Summer
Summer Safety Campaign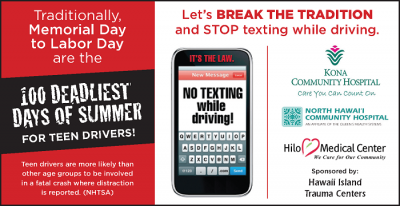 The Hawaii Island trauma centers at Kona Community Hospital, Hilo Medical Center and North Hawaii Community Hospital are collaborating on a summer safety ad campaign designed to raise public awareness about the dangers of texting while driving.
Traditionally, the period from Memorial Day to Labor Day is the "100 deadliest days of summer" for teen drivers according to the National Safety Council. The goal of the summer-long ad campaign is to encourage Hawaii County drivers to break the tradition and stop texting while driving.
"This initiative is intended to raise awareness and educate our teens as well as adults that texting and driving is a dangerous activity with deadly consequences," Wendi Wagner, RN, KCH Trauma Center Manager.
This summer, watch for ads sponsored by your Hawaii Island trauma centers stressing text-free driving, safety and awareness.
Print ads:
100 deadliest days for teen drivers
Radio ads :
Teens & children on texting while driving
---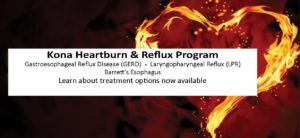 ---
Statement of Non-Discrimination
Hawaii Health Systems Corporation, its Regions and Facilities comply with applicable Federal, State and Local civil rights laws and rules and do not discriminate on the basis of race, color, ancestry, national origin, religion, age, disability, sex, sexual orientation, or marital status.
Click here to see a full Notice of Non-Discrimination
---
Language Access Services