Theron Ogata, Avid Paddler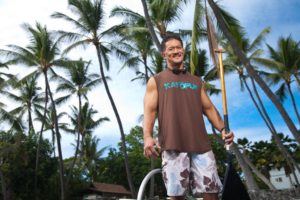 Theron Ogata broke his collar bone in 1996. He recovered from the injury, but his shoulder didn't heal correctly. Over the next 13 years, he would have ongoing shoulder pain. The pain was so great that he couldn't sleep at night. As an active paddler, he would be in excruciating pain during long races, almost forcing him to stop paddling.
He had put off surgery for a number of years. "It came to a point where I had to find an expert in orthopedic shoulder surgery". He looked to Alii Health and found an orthopaedic surgeon, Dr. Vivian Chang, who just completed a clinical research sports medicine fellowship in shoulder and knee reconstruction at L'IRCOS (L'institut de recherche en chirurgie orthopédique et sportive) in Paris, France. Consulting with Dr. Chang helped him explore surgical options. The consultation assisted Theron in preparing for his postoperative course and the changes he had to make at home and work.
Theron had his surgery at Kona Community Hospital, and couldn't be happier about his decision. One thing that Theron remembers is the phone call he received from a recovery nurse asking him how he was doing after the surgery. "The phone call made me feel special."
Today, Theron has fully recovered from his surgery. He is back in the water competing in both single and team paddling races. "I have lived so long with the pain that I didn't realize I had options to correct it. I want to thank Dr. Chang and Kona Community Hospital for helping me be pain free."