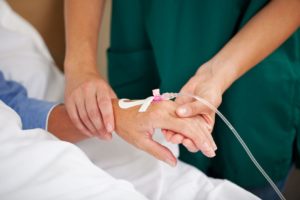 Most of our patients receive chemotherapy treatment as an outpatient.  Staffed by highly trained, oncology certified nurses, we offer IV treatments along with education and support for patients receiving chemotherapy.
We specialize in intravenous (IV) treatments. In addition to cancer treatments we also offer a number of other services in response to community provider referrals.  Our full suite of services includes:
Central line catheter care
Chemotherapy
Therapeutic injections
Transfusion of blood products (red blood cells, plasma, platelets)
Intravenous therapies including:

Hydration
Antibiotics
Iron replacement
Osteoporosis
The center is open Monday-Friday 7:30am – 4:00pm. For more information, please contact the Infusion Center at (808) 322-6910, option 2.