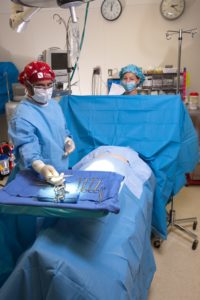 Our surgical services continue to make a difference in the lives of thousands of people who visit Kona Community Hospital. Inpatient surgical capabilities include operating suites equipped for both elective and emergency procedures.
Whether it is a planned general, orthopedic, gynecologic, gastrointestinal, ophthalmic, pediatric dentistry, podiatry or emergency surgery, the surgical team at Kona Community Hospital has only one goal: to provide the best patient care possible. With this, the safety, satisfaction, and peace of mind of our patients and their loved ones are of primary importance.
IMPORTANT REMINDERS FOR YOUR SHORT STAY VISIT
A nurse from the Short Stay unit will call you prior to your surgery date with necessary instructions and will answer any of your questions at that time.
Your doctor will tell you about any pre-operative instructions you need to follow.
Wear comfortable, loose clothing and flat shoes.
Arrange for someone to drive you home from the hospital. You will not be allowed to drive yourself. An adult escort must be with you when you go home.
Leave all jewelry, valuables and cash at home.
If you wear contact lenses, bring the case so you can take them out before surgery. Bring your eyeglasses or hearing aid if you need them.
Don't wear makeup, eye shadow, mascara or scented cologne/perfume.
Please bring a list of your medications with you to the hospital. Be sure it includes the name of each medication, dosage, the reason you take the medication and the date and time of your last dose.
Please note: smoking is not allowed at Kona Community Hospital.
WHEN YOUR CHILD NEEDS SURGERY
At Kona Community Hospital, we know that children have special needs when coming to the hospital. We invite parents and children age 3 and older to tour our facility ahead of time and meet our friendly staff. Learn what to expect and how to make your child's Short Stay experience as comfortable and stress-free as possible. To schedule a tour, please call 322-4436. On the day of surgery, many parents wish to stay with a child as long as possible. You may stay with your child until he or she goes into the operating room. Please plan to stay in Short Stay during your child's surgery. We will bring you to the post-anesthesia recovery room which has some of the best selling high-end hospital beds so that you will be with your child when he or she wakes up. Please limit the number of siblings and other family members who are with you so that your full attention can be given to your child.