If this is an emergency, immediately call 9-1-1 or your local ambulance service.
The Highest Quality Care—Quickly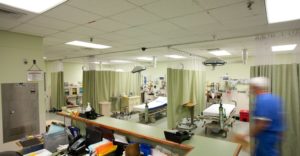 In an emergency, every minute counts in providing the best care. At the Kona Community Hospital Emergency Department, this not only means quality medical care, it also means personalized attention to our patients' emotional and spiritual needs.
Our emergency room staff sets high standards for caring for you, and we take pride in meeting and exceeding these standards. Our staff is well-prepared to meet the demands of the emergency room.
The facility includes a central nursing hub surrounded by patient rooms, dedicated areas for trauma, and a variety of specialty patient areas—with a total of 18 patient beds.
Kona Community Hospital patients are able to access a variety of specialty services within the facility, depending on their diagnosis.
We hope you never need our services. But if you or a loved one ever experience a medical emergency, it's good to know that Kona Community Hospital's emergency staff is here for you in every way.
Trauma Designation
Kona Community Hospital (KCH) attained Level III trauma center designation in 2011.  As a Level III trauma center, KCH provides resources for emergency resuscitation, stabilization, emergency surgery and intensive care of trauma patients.  This streamlines the process for treatment of traumatic injuries and decreases time needed for emergency care.  
Level III trauma designation utilizes a team approach.  The team assembles in the emergency department when a patient meets trauma activation criteria, often in a pre-hospital setting.  Rapid response by the Trauma Center team provides optimal patient evaluation and stabilization, improved communications for rapid decision making for transfer to definitive care facilities and improved outcomes for trauma patients.  
As a Level III trauma center, Kona Community Hospital is connected with the statewide trauma system.  Level III status means that Hawaii County is better equipped to reduce death rates from trauma.  
Learn More