Robotic-Assisted Total Joint Replacement Now Available in Hawaii
The Total Joint Replacement Program at Kona Community Hospital and Ali`i Health Center was developed to provide surgical options for relief of hip and knee pain from arthritis, joint disorders or injury. We have implemented a comprehensive, planned course of treatment, which we call a same-day joint replacement program.
We now offer robotic-assisted joint replacement surgeries, which allows for more precise surgeries and a faster recovery time.  Dr. Paul Morton was the first orthopedic surgeon in Hawaii to successfully complete this procedure. The benefits of robotic-assisted surgeries include: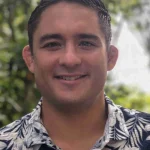 Precise surgeries
Faster recovery time
Fewer complications
Less blood loss
Our other hip and knee treatment options include:
Hip and Knee Joint Preservation
Joint Replacement of the Hip and Knee
Minimally Invasive Unicompartmental Knee Replacement Surgery
Surgical Revision of the Hip and Knee
CONTACT US
for information, or to schedule an appointment at:
(808) 747-8321
(Option #4)
The Total Joint Replacement Program is a team-oriented program offering individualized patient care to ensure the best results for each patient.
Considering hip or knee joint replacement?
Use these resources to supplement discussions with your surgeon