KCH will cease vaccine clinics at campus, Kekuaokalani Gymnasium on May 28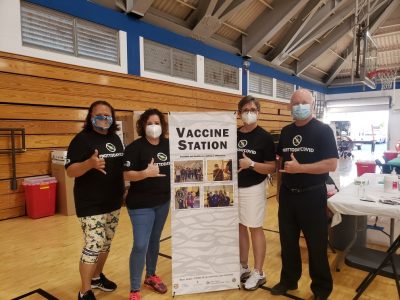 Kona Community Hospital Wednesday announced it will be wrapping up its public vaccine clinics at both its Kealakekua campus and at Kekuaokalani Gymnasium in Kailua-Kona.
The hospital will cease vaccine operations both sites on Friday, May 28, said hospital spokeswoman Judy Donovan. As of Thursday, Kona Community Hospital has administered 19,940 total vaccine doses.
"We have been honored to play a primary role in this very important public health initiative to provide vaccinations to our community," said Donovan. "As the numbers of residents receiving the vaccine has increased, the demand for the vaccine has lessened to a manageable level. We are working closely with Premier Medical Group (PMG) as they step in to take administration of the Pfizer vaccination for West Hawaii residents."
Thursday, May 27 will be the final clinic day at the Kekuaokalani Gymnasium/Kona Aquatic Center for the hospital. First doses will be administered through the final day in May. Second doses will be administered by PMG in June.
Friday, May 28 will be the final clinic day at hospital's campus on Haukapila Street. First doses will be administered through final day in May, with second doses also being administered by PMG in June.
Thursday, June 17 will be the first clinic day for PMG at the Kona Aquatic Center Gymnasium.
KCH encourages anyone who may be postponing receiving a vaccine to strongly consider making an appointment. Vaccination eligibility is open for all individuals 16 years of age and older.
Contact he KCH Call Center at (808) 322-4451 to make an appointment or email KCHCOVIDvaccine@hhsc.org. Call Center service hours are 8 a.m. to 2 p.m. on weekdays.
Registration form with instructions can be downloaded online at www.kch.hhsc.org/covid-19-hospital-preparedness-message.