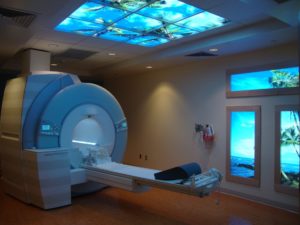 Kona Community Hospital's new state-of-the-art Magnetic Resonance Imaging (MRI) machine now features the relatively new technique of breast imaging. Although proven effective in multiple recent clinical trials, it is new to KCH, and has not previously been performed in Kona. The procedure is safe, accurate, and cost-effective, costing about the same amount as a regular MRI exam. It takes about 30-40 minutes to complete, and involves a small injection of inert contrast dye (gadolinium).
Radiologist Dr. Douglas Sides, MD, who provides these examinations at the hospital commented, "Breast MRI is a new, innovative technology that can assist in enhancing the quality of care for patients and is an added benefit to our community. This new imaging service is a reflection of the progressive nature of Kona Community Hospital."
The test is used to detect breast cancer and other abnormalities in the breast. The MRI captures multiple images of the breast and generates detailed pictures. It is typically performed when a doctor needs more information than a mammogram, ultrasound or clinical breast exam can offer. In certain instances, such as a woman with a very high risk of breast cancer, breast MRI may be used along with mammograms as a screening tool for detecting breast cancer.
The following are reasons why a physician would recommend a breast MRI:
Determination of extent of disease in a patient with a recent diagnosis of breast cancer
Suspicious finding on mammography, seen on only one view, and thus not able to be biopsied with mammographic guidance
Clinically palpable lump with negative mammography and breast ultrasound
High risk of breast cancer, defined as a lifetime risk of 20-25% or greater
Strong family history of breast or ovarian cancer, particularly in patients with dense breast tissue on mammography, rendering mammography less useful
Dense breast tissue and prior history of breast cancer not detected by mammography
History of precancerous breast changes — such as atypical hyperplasia or lobular carcinoma in situ
Routine surveillance in patients with history of high grade ductal carcinoma in situ (DCIS) or invasive breast cancer.
Suspected leak or rupture of a breast implant
Breast MRI is intended to be used in addition to a mammogram or another breast-imaging test, and not as a replacement for a mammogram. Although it is highly sensitive, breast MRI can still miss some breast cancers that a mammogram can detect.