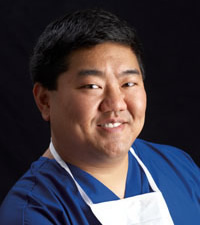 Kona Community Hospital is pleased to announce the addition of Nathan Tomita, D.O. M.P.H. to its general surgery team. Dr. Tomita specializes in bariatric and general surgery, and will be performing procedures not yet available in west Hawaii.
Dr. Tomita is a highly skilled bariatric surgeon. He has performed hundreds of surgical weight loss procedures, most using minimally invasive, laparoscopic techniques. Bariatric surgical procedures which Dr. Tomita brings to Kona Community Hospital include: gastric laparoscopic bypass, adjustable gastric band and sleeve gastrectomy.
In addition, Dr. Tomita is one of the few surgeons in the United States offering incisonless surgery for gastro esophageal reflux disease (GERD). This procedure significantly reduces pain and recovery time for patients who suffer from reflux.
Dr. Tomita also offers multiple breast biopsy options as well as targeted radiation therapy for breast cancer treatment.
Dr. Tomita attended medical school at Michigan State University College of Osteopathic Medicine and completed an internship with Genesys Regional Medical Center. Dr. Tomita then completed a general surgery residency with Henry Ford Health System in Detroit, Michigan.
His bariatric surgery training was conducted under the supervision of Dr. Keith Marshall at Bi-County Hospital in Warren, Michigan.
Dr. Tomita's philosophy is to create an individualized plan of care to meet the physical, emotional and medical needs of each patient.
"We are very fortunate to have Dr. Tomita joining Kona Community Hospital. We are working to offer a broader range of treatment options to our community, and Dr. Tomita brings his expertise to our excellent surgical team," said Dr. Kathleen Rokavec, Medical Director of Kona Community Hospital.
Dr. Tomita is employed by Ali'i Health Ali'i Center (a subsidiary of Hawaii Health Systems Corp.), and is credentialed to perform services at Kona Community Hospital.