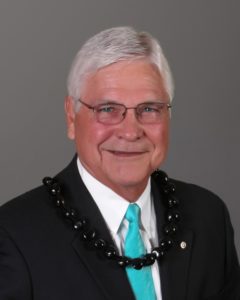 Kona Community Hospital and the HHSC West Hawaii Region regretfully announced its Board Chairman, William "Bill" Cliff, passed away suddenly on Tuesday, January 26 while vacationing with family. He was 75 years old.
"We're profoundly saddened by the news of Bill's death," said Jay Kreuzer, Regional CEO of Kona Community Hospital and Kohala Hospital. "As chairman of the board of the West Hawaii Region, Bill was a thoughtful leader who was deeply committed to improving health care services for the West Hawaii community. He will be greatly missed."  
Bill joined the West Hawaii Region board of directors in 2010 and became board chairman in July, 2014. During his tenure, he played a key role on a number of committees including Strategic Planning for the West Hawaii Region. Inspired by the Kona Community Hospital mission statement, Bill was passionate about maintaining focus on the future of quality health care in West Hawaii.  
"Bill was an extraordinary man who enriched the lives of those around him," Kreuzer said. "He will be remembered warmly as a mentor, a tireless public servant and a dear friend. Our deepest sympathies are with his partner, Gabriella, and their 'ohana."