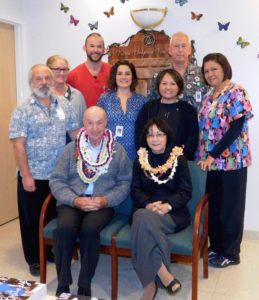 Kona Community Hospital (KCH) bid farewell today to radiation oncologist, Dr. James Lambeth as he is retiring from Hawaii Island Radiation Oncology, Ltd. and the KCH Radiation Oncology Clinic.
The hospital's radiation oncology staff and management showered Dr. Lambeth and his wife, Phoebe, with leis and warm aloha as they shared lunch in celebration of his years of service to the West Hawaii community.  
Dr. Lambeth has been serving patients on Hawaii Island for 40 years. He was instrumental in bringing much needed radiation oncology services to the Big Island. The on-island radiation services offered patients treatment close to home versus traveling to Honolulu for care.  
Lambeth spearheaded the building of the Radiation Oncology Clinic (ROC) at Kona Community Hospital. The first patient was treated at the KCH Radiation Oncology Clinic on May 5, 2005.  
Since its opening, Dr. Lambeth has commuted from Hilo to the ROC Kealakekua as often as four times per week to provide treatment to radiation oncology patients at KCH.  
"We feel such gratitude to Dr. Lambeth for his passionate service to patients in Kona and Hilo for so many years," said Sanoe Ka`uhane, KCH Cancer Center Manager.  
Beginning Monday, February 1st, The Queen's Health System will be providing radiation oncology physician coverage daily to the KCH radiation Oncology Clinic.