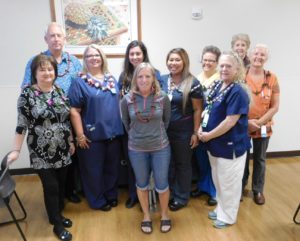 Today, Kona Community Hospital (KCH) celebrated having received international recognition as a designated Baby-Friendly Birth Facility. Kona Community Hospital is one of only three Hawaii hospitals to have received this designation.
This prestigious recognition was awarded to KCH by Baby-Friendly USA, Inc; the U.S. authority for the implementation of the Baby-Friendly Hospital Initiative ("BFHI"). The BFHI is a global program sponsored by the World Health Organization (WHO) and the United Nations Children's Fund (UNICEF). The goal of BFHI is to implement practices that protect, promote and support breastfeeding and immediate skin-to-skin bonding of newborn infants.  
 "We're thrilled to receive this designation," said Sally Robertson, Women's Services Nurse Manager. "These baby-friendly best practices at KCH can impact the health of the entire community by providing new mothers with the proper education and tools to support successful breastfeeding and improve health outcomes for newborns."  
This hospital-wide initiative wasn't an easy process. However, hospital clinicians and affiliated agencies and doctors dedicated themselves to meeting the challenges in order to bring the best level of care to newborns in our community.  
The "Baby-Friendly" designation is given after a rigorous on-site survey is completed.   The award is maintained by continuing to practice the Ten Steps as demonstrated by quality processes. Those steps include:
Have a written breastfeeding policy that is routinely communicated to all health care staff.
Train all health care staff in the skills necessary to implement this policy.
Inform all pregnant women about the benefits and management of breastfeeding.
Help mothers initiate breastfeeding within one hour of birth.
Show mothers how to breastfeed and how to maintain lactation even if they are separated from their infants.
Give infants no food or drink other than breastmilk, unless medically indicated. 
Practice rooming-in–allow mothers and infants to remain together 24 hours a day.
Encourage breastfeeding on demand.
Give no pacifiers or artificial nipples to breastfeeding infants. Globally there are over 20,000 designated Baby-Friendly hospitals and birth centers worldwide. Currently there are 329 active Baby-Friendly birth facilities in the United States.    Further information about the U.S. Baby-Friendly Hospital Initiative may be obtained on the Baby-Friendly USA website: www.babyfriendlyusa.org