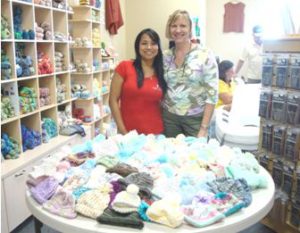 Kona Community Hospital recently received 100 knitted baby hats from the Island Yarn and Art Supplies, a local business owned by John & Debra Repasky. They started this project that would give back to the community which began when they received yarn from a family whose relative was a knitter and passed away.
Debra commented, "We wanted to use the yarn for a good cause. I had a pattern and made a baby hat. And, come to find out, it was a great way to use leftover pieces of yarn. It was just an idea and I thought that we could do something for our community."
"I mentioned the idea of knitting hats for both the newborns of Kona Community Hospital and chemotherapy and dialysis patients of North Hawaii Community Hospital to our knitting group, and it took off. It took about one month for us to collect these many hats." Approximately 20 people participated in this project. "We are even thinking about doing it every quarter now because of everyone's interest."
Hats can be taken any time at the Island Yarn and Art Supplies store located in Kaloko, or delivered directly to the Obstetrics department which delivers 500 babies every year. The Kona Community Hospital Auxiliary also has volunteers that provide hats to the Obstetrics unit of the hospital.
For more information, please contact Emily Mendez-Bryant, Community Relations Director at Kona Community Hospital at 322-6960.
Founded in 1914, KCH is a 94-bed full-service hospital with 24-hour emergency services that supports the west region of the island of Hawaii. It is a member of the Hawaii Health Systems Corporation, a special agency of the state of Hawaii established in 1996. It is fully accredited by the Joint Commission on Accreditation of Healthcare Organizations. Kona Community Hospital is dedicated to providing and enhancing accessible comprehensive healthcare services to the West Hawaii community.