COVID-19 crisis suppresses visits to Big Isle hospitals, clinics
 By STEPHANIE SALMONS Hawaii Tribune-Herald | Monday, May 18, 2020, 12:05 a.m.
Fewer patients are visiting Big Island emergency rooms and urgent care clinics due to the ongoing COVID-19 pandemic, and that is having a negative impact on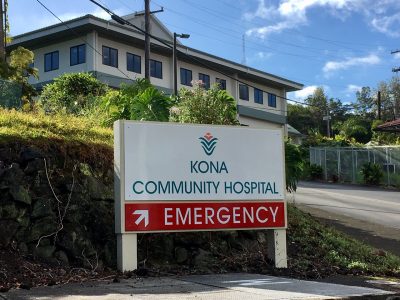 their revenue.
Dan Brinkman, East Hawaii Regional CEO, Hawaii Health Systems Corp., said Hilo Medical Center averaged between 4,000 and 4,200 visits a month prior to the COVID-19 pandemic and stay-at-home orders issued by Gov. David Ige.
The hospital is now averaging between 2,800 and 3,000 visits, a 38% to 40% percent decline.
"It's understandable, given the request for the governor's order to stay at home," Brinkman said. "I think a lot of people have taken that very serious, as we can see with the low COVID rates on our island, and I think our community has done a really good job following those directives."
Because of those directives, Brinkman said people are limiting activities. There are fewer accidents, no more cruise visitors and fewer trauma injuries.
That's resulted in fewer emergency room visits, but Brinkman said he's concerned some patients are following the stay-at-home order to their detriment and seeking care after waiting far too long to do so.
"We're seeing less overall patients in the ER. However, of the patients that we see, we're admitting a higher percentage of them because they're sicker."
Brinkman said there's been an increase in the number of patients admitted from the emergency room — up from about 12% to 17%-18%
"It's a phenomenon that's happening across the country," said Brinkman. "Patients are sicker, waiting perhaps a bit long for their care. It's understandable, but we're hopeful as the community starts to reopen (and) some of the restrictions are lifted, that trend will reverse itself and people will feel more comfortable getting the care they need."
But a decline in patients means a big hit to the hospital's finances.
Brinkman said the hospital is projecting a $26 million drop in revenue through the end of the calendar year.
"We've seen declines in our elective surgeries, in clinic visits. Collectively, it's cost us a lot."
That projection, however, could balloon should there be a surge in COVID-19 cases.
According to Brinkman, combined revenue for the East Hawaii Region, which also includes the hospitals in Ka'u and Honokaa, is around $260 million.
The hospital has received $21 million in federal funding as part of the Coronavirus Aid, Relief, and Economic Security (CARES) Act.
"That will offset a good portion of that $26 million, which is good news," Brinkman said. "We also started this whole crisis in pretty solid financial condition, so we have some reserves."
HMC's goal is to avoid reductions in services or layoffs or pay cuts, despite the persistence of the virus threat, he said.
"We're hopeful we can manage that transition, because all hospitals are going to have to adjust their services, adjust how they're going to do their business. Our goal is to do that without disrupting the health care in the community."
Elsewhere in Hilo, declining patient counts are having a similar impact.
"As far as the numbers are concerned, we're probably down about 60% of the patient load we normally see," said Brenda Dunne, director of operations at Hilo Urgent Care.
Revenue is down about 60%, too.
Looking into her parking lot Friday, Dunne said there was maybe one car that didn't belong to her staff, "which is really scary, because normally Monday and Friday are our busiest days."
Typically, she has two doctors and three nurses working those days, but had to cut back to one doctor and two nurses.
"We're happy that people are being safe, but as far as business is concerned, I don't know how we're going to do it if it continues to be this way," Dunne said.
Making the situation more difficult, Dunne said, is the clinic's income is based solely on patients who visit.
"If we don't have patients coming in, we don't have income coming in," she said. "Every single patient are our paychecks. We do not have any funding from the state or from the federal government. That's a huge hit for us."
The clinic did apply for and received help from the Paycheck Protection Program, a U.S. Small Business Administration loan that helps businesses keep their workforces employed during the COVID-19 crisis.
"… When that is out, we shall see," Dunn said.
The number of emergency room visits are down in other Big Island hospitals, too.
At Kona Community Hospital, a part of the Hawaii Health Systems Corp., emergency room visits are down as well.
Chief Financial Officer Dean Herzog said the hospital's emergency room had about 65 visits per day before stay-at-home orders were implemented but now have about 30.
Admissions also decreased from about 300 per month to about 200, and demand for all services is down by about 33%, he said.
Herzog said, too, that all hospital revenues are down by about a third, but federal stimulus dollars will help offset the losses. He did not say how much money the hospital will be receiving.
Apart from COVID-19 testing, which is available in its emergency room, ER visits to Queen's North Hawaii Community Hospital in Waimea have decreased between 20% and 30%, spokeswoman Lynn Scully said.
Like HMC, Scully said NHCH's biggest concern is making sure people get the care that is needed and not waiting.
"It is usually easier to treat things earlier instead of waiting," she said. "Emergencies don't stop because of a pandemic, and we would like the community to know that their local emergency rooms are open and available for people's urgent needs 24/7."