A gift from the heart: Anonymous donor secures, transports thousands of masks for front-line worker
By Special to West Hawaii Today | Monday, May 25, 2020, 12:05 a.m.
https://www.westhawaiitoday.com/2020/05/25/hawaii-news/a-gift-from-the-heart-anonymous-donor-secures-transports-thousands-of-masks-for-front-line-worker/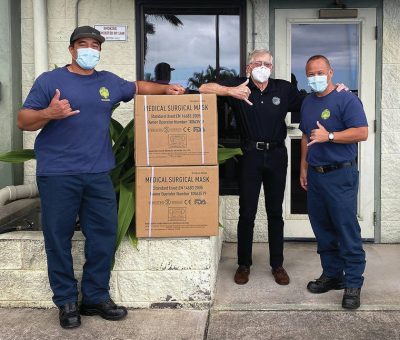 Tens of thousands of sterile surgical masks have reached Hawaii Island's front-line workers thanks to an anonymous donor.
The donor flew in 54,000 masks on May 13 and another 36,000 masks on Saturday that are being distributed to front-line response teams through the Daniel R. Sayre Memorial Foundation.
To date, PPE supplies that have been nearly impossible to obtain have been provided to the Hawaii Fire Department, Hawaii Police Department, Kona Community Hospital, North Hawaii Community Hospital, Kohala Hospital, Kona Ambulatory Surgery Center, Alii Health Center for Cardiology, Orthopedics, Obstetrics/Gynecology Pediatrics, Gastroenterology and General Surgery, HOPE Services; and numerous medical, dental and veterinary offices.
These masks are among over 600,000 pieces of needed PPE that the donor secured at a cost of approximately $25 million to allow essential workers to "get back to work safely." It is part of the donor's company's philosophy to give back to communities and to continue to make a difference in the world.
Hawaii Fire Department Chief Darren Rosario and Battalion Chief Bill Bergin coordinated these efforts with Dr. Frank Sayre and Laura Mallery-Sayre, founders of the Daniel R. Sayre Memorial Foundation.
"It has been a true honor to be a part of this amazing effort to protect lives during this COVID-19 pandemic. We have such gratitude for our donor and his amazing heart!" Laura and Frank said.