At today's Kona Community Hospital's (KCH) quarterly Medical Staff meeting, CEO Jay Kreuzer and Chief of Staff Dr. Beth Groshong unveiled a plaque dedicated to the physicians who have served 10 years or more of medical care at KCH. It serves as recognition of doctors who have made a long-lasting commitment to the West Hawaii community.
The substantial mango-wood plaque made by Award & Sign Center Hawaii features 88 brass-engraved names with 39 doctors who have provided 20 years or more of service and 14 with 30 years or more. Out of the total 88, 39 are still current members of the medical staff with 8 who have served 30 years or more. They include Kevin Kunz (30+), Ed Gramlich (31+), Larry Peebles (31+), Robert Laird (33+), James Lambeth (35+), Sukchai Satta (35+), Robert Young (35+), and Santad Sira (36+).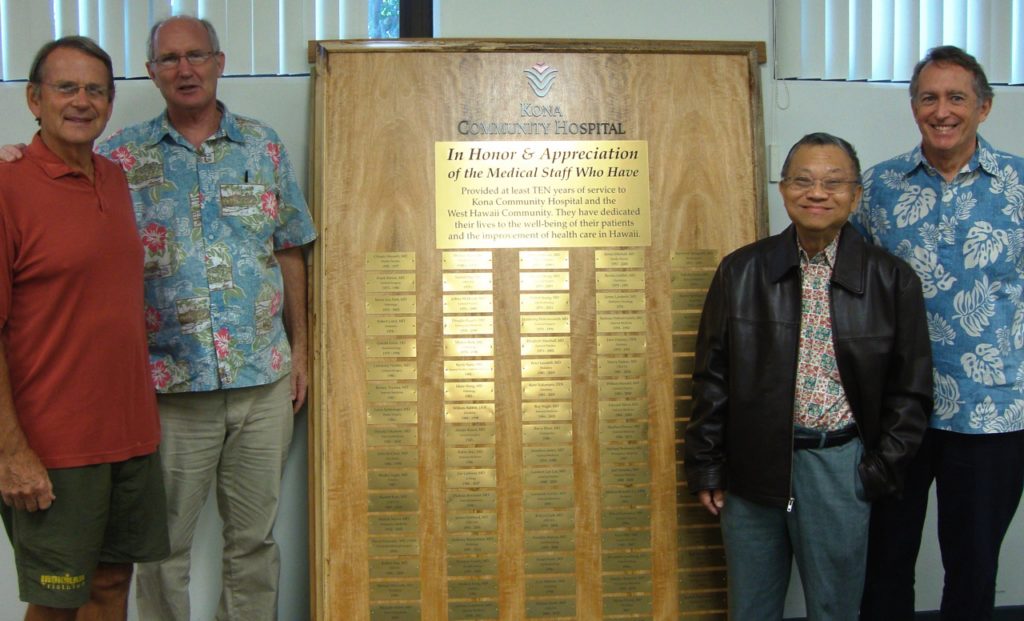 Dr. Sira remembers when he started to work as a young physician in Kona. He commented, "Dr. James Mitchell and Dr. Chisato Hayashi brought me over in the early 1970s. I was very young but found it to be so quiet here. I really loved this place and my job."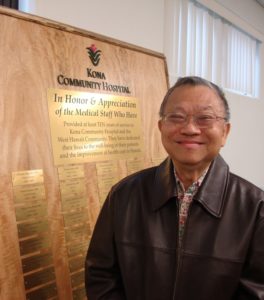 When asked "Why have you stayed in West Hawaii?" he replied, "I love this community, the nice people, the culture and aloha spirit." Santad's 36 years of service is not the only milestone the physician has achieved. He has delivered approximately 8000 babies over a span of 3 generations.
"There has been a lot of discussion regarding physician recruitment and retention. It continues to be a challenge not only for us but for the entire country. However, it is also long overdue that we appreciate the physicians who have dedicated their lives to the well-being of their patients and the improvement of health care in Hawaii," commented Dr. Beth Groshong, KCH's Chief of Staff. "We sincerely thank the current and past medical staff members of Kona Community Hospital for their dedication to the medical profession and West Hawaii."
The plaque will be proudly displayed in the main hospital for everyone to view and will continue to grow as physicians make their 10-year annivery.