See story by West Hawaii Today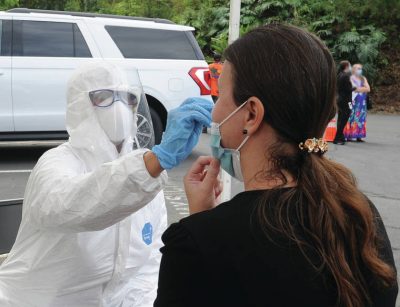 By Laura Ruminski West Hawaii Today lruminski@westhawaiitoday.com | Friday, July 17, 2020, 12:05 a.m.
In a swift reaction to the news that three employees at Kona Community Hospital tested positive for COVID-19, the facility's entire staff was tested for the coronavirus on Thursday.
Hospital spokesperson Judy Donovan said leadership learned of the first positive test on Friday and when the second confirmed case showed up on Tuesday, the team sprang into action.
"After the first confirmed case, we began to mobilize internally with track-and-trace," said Donovan. "After Tuesday, we knew we needed to test everybody."
That is when the hospital reached out Dr. Scott Miscovich of Premier Medical Group, which has been conducting pop-up screenings throughout the state and is an international COVID testing consultant.
"He said, 'we'll take care of everybody,'" said Donovan.
Within two days, Miscovich and his team were set up to test the Kealakekua hospital's 470 employees plus providers, contractors, vendors and patients.
"We're testing the full facility, 100%," said Miscovich. "We are here to give the community assurance that the hospital will be 100% COVID-free."
Members of the Hawaii Fire Department, EMS and the National Guard and volunteers joined Premier Medical Group staff from Oahu and the Big Island to conduct the seamless tests.
"We need to find the clusters of asymptomatic patients and isolate them because they can pass the virus to others," said Miscovich, explaining that the virus has a five- to six-day incubation period and approximately 40% of those infected are asymptomatic. "This is how the state and county needs to address it."
He added they are not going to stop this process until there are no active cases.
"We want this to be the model for the state," Miscovich said of the effort.
Critical area employees, those who work in intensive care unit (ICU), emergency room, respiratory therapy, medical/surgical, imaging and lab started the testing day at 5:45 a.m. Thursday. Those employees were given the rapid test and nasal swab. If the rapid test indicated a positive result, the employee was to be immediately isolated.
Batches of nasal swabs were flown to Honolulu throughout the morning with results expected in 24 hours.
Interim Chief Nurse Executive Stephanie Irwin said the hospital's goal was to quickly sweep through the staff.
"We want to take care of our community because our community has a partnership with us," she said.
Follow-up tests will be performed in four days for staff in critical areas and in eight days for all employees.
Premier Medical will also have a pop-up drive-through test clinic from 8 a.m. to noon this Saturday at the West Hawaii Civic Center parking lot. The event is geared toward family of staff, patients, visitors and anyone who came through the hospital on or after July 8 and may be concerned about possible exposure.
Irwin said those coming to Saturday's testing should bring their insurance card and ID.
Since the beginning of the pandemic, 204 patients at KCH have been tested with six positive results for COVID-19, Donovan said. Three of those cases were inpatient with the remaining three outpatients coming through the emergency room and able to isolate at home.
The hospital still has a no visitor policy in place with exceptions for OB, pediatrics and those receiving end-of-life care.
"We are doing this because it's the right thing to do," said Jay Kreuzer, the hospital's acting CEO.