Updated 1/11/2021                                                                                                                 
To our Community:
This page is devoted to keeping our community updated with current news and information about the COVID-19 pandemic. We will also provide information regarding the COVID-19 vaccine as it becomes available.
KCH Vaccine Clinic: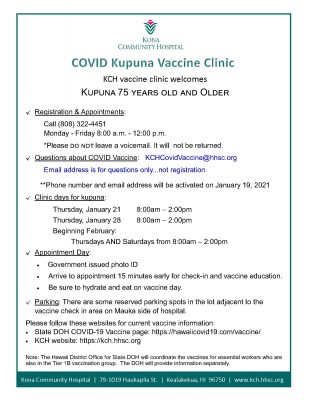 KCH is a registered clinic in the CDC Vaccination Provider Program. With this honor comes responsibilities and guidelines to be followed by our organization. We're committed to operating the KCH vaccine clinic in accordance with our CDC Vaccination Provider Program Agreement, and in cooperation with the Hawaii Department of Health. This is huge undertaking, and the team is working tirelessly to manage all facets of launching and operating a large-scale vaccine clinic.
We are currently in Phase 1a, which prioritizes eligible healthcare workers, including active community healthcare workers.
Click here to learn about COVID-19 vaccine from Hawaii DOH.
Click here to view DOH COVID-19 vaccine timeline:  Where are you in the Vaccine Timeline?
Hospital Visitor Restrictions Remain in Effect (click here)
From CDC:
We encourage you to look for the most current information:
At-A-Glance Resources: