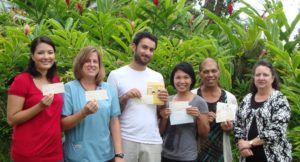 The Kona Community Hospital (KCH) Auxiliary for many years now has been providing scholarships to local students who are interested in becoming a registered nurse and want to continue to stay in the community. This year was no different. They recently distributed five $2500 nursing scholarships, totaling $12,500. Recipients included Rachel Able, Barbara Gampon, Omer Margolin, Julia Marks and Stephanie Tinao, who will attend either Hawaii Community College-West Hawaii or University of Hawaii-Hilo.
Rachel Able, who currently works as a CNA (Certified Nursing Assistant) in the Med/Surg department at the hospital commented, "I truly appreciate this scholarship because there is a strong connection between the hospital and me. It makes me proud that the hospital auxiliary is able to give back to our community like this."
Born and raised on the Big Island and a graduate of Kealakehe High School, Julia Marks stated, "All I have ever wanted to be is a nurse and to help people. Even after graduating from this nursing program, I plan to complete my Bachelor's degree and possibly pursue my Master's."
When asked why nursing as a career, Omer Margolin said, "The nursing profession is important. It is the heart of healthcare. And this scholarship creates a bond with our community because it shows us that we are supported and makes us even more committed to help the people who live here."
"I've worked in Ancillary Services at the hospital for 18 years and then became a CNA," noted Stephanie Tinao. With a smile on her face, she added, "All of my kids are out of high school and college – and now it's my turn."
With 65 active members, the KCH Auxiliary is the largest volunteer organization at the hospital. There are numerous volunteer opportunities and they coordinate the Recycling Program, the Gift Shop and more. Monies for nursing scholarships are generated by the Auxiliary's Friday Bake Sale and other activities.
To be a volunteer or to donate to the nursing scholarship fund, contact the Auxiliary office at 322-4577.