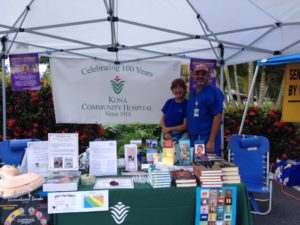 On Saturday, August 23, Kona Community Hospital (KCH) took part in the 2014 Department of Health Ho`omaika`i Ola Kino Health and Wellness Fair.   The fair was held at the Kealakekua Ranch Center.  KCH provided information to the community on the Ka'a Ho'ola Mobile Medical Van, CPR basics and Women's Health Services.
Jackie Murray, APRN and Judy Donovan provided information to the public on the hospital's medical van which is dedicated to providing medical services to underserved residents in the Ka`u district.  The van serves the Pahala and Ocean View communities in alternating two-week periods.
Additional information focused on heart health and the value of being able to perform CPR.  Ten CPR Anytime Family and Friends teaching kits were raffled to fair participants throughout the day.  The American Heart Association reports that for every Family and Friends kit that is given away, two people learn the hands-only method of CPR. 
Finally, Dr. Gary Bernard, D.O., OB/GYN and staff from Ali`i Health Center's Women's Health department joined KCH at the health fair to distribute information on newly available obstetric services for our community.  They were able to highlight the creative partnerships between Kona Community Hospital's Women's Health unit, Ali'i Health Center and other community providers, which are addressing the need for women's services in West Hawai`i.
"We're grateful to the DOH for hosting this health and wellness fair," said Jackie Murray.  "It provides ready access to health information to the community, and at the same time, it is fun for everyone."
(photo left to right:  Jackie Murray, APRN and Dr. GaryBernard, DO, OB/GYN)