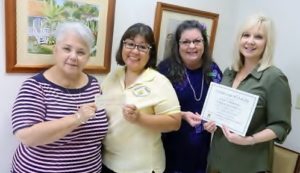 On Tuesday, September 23, The Kona Business and Professional Women's Club presented a generous donation to the Kona Hospital Foundation.  The donation check in the amount of $1000 was presented by Carol Kirihara, Club President and Laura Guluzzy, Community Outreach Chair.  The funds will be earmarked for the benefit of the hospital's Cancer Center.
The Kona BPW Club, whose mission is to achieve equity for all women in the workplace through advocacy, education, and information, previously donated to the Hospital Foundation in 2010.
"This year, we want to support the Kona Community Hospital Cancer Center," said Carol Kirihara, noting that the Kona Hospital Foundation is dedicating their fourteenth annual gala to raising funds for the Cancer Center.
Judi Nakamaru, Foundation Vice-Chair was on hand to accept the donation.  She said, "The Professional Business and Women's Club has always been good to the Hospital Foundation.  They are dedicated to supporting our community."
The Kona Hospital Foundation's mission is to accept gifts and solicit donations for new medical technology, expanded services and enhanced facilities for Kona Community Hospital.  Since its inception, the Foundation has funds to numerous projects that have improved the hospital.  Major endeavors include the Radiation Oncology Center, Imaging Center, Nuclear Medicine Suite, and Outpatient Chemotherapy Building.
For additional information on the Kona Hospital Foundation, please call 322-4587 or visit the Foundation website www.khfhawaii.org.