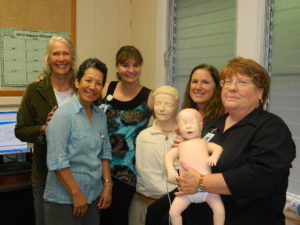 The Kona Community Hospital Education Department would like to introduce you all to the two newest members of the KCH Family, Anne and Baby Anne!!
We are proud to announce that as of December 27, 2012 the KCH Education Department will be introducing the new HeartCode program for BLS (CPR).
"What is HeartCode," you may be asking. HeartCode is the American Heart Association's comprehensive, e-learning program for Basic Life Support. It is a web-based, self-paced program that uses eSimulation technology to allow students to assess and treat patients in a virtual healthcare setting. Debriefings and coaching are provided after each simulation to help with learning. After completing the e-learning portion of the course, staff will practice and test their skills on our Voice-Assisted Manikin (VAM).
This is where Anne and Baby Anne come into play. During hands-on skills with Anne and Baby Anne staff will experience interactive coaching that will help them perform CPR in accordance with American Heart Association guidelines. Anne and Baby Anne will actually talk to you and tell you what you need to do to perform Life Saving CPR.
Please join us November 14th and 15th at our HeartCode Open House for the opportunity to meet Anne and Baby Anne in person. Anne and Baby will be ready to show off their skills during fun and interactive practice sessions from 9:00-11:00am, 1:00-3:00pm and 2:00-5:00am. We would love to see ALL of KCH staff come out to join the fun.